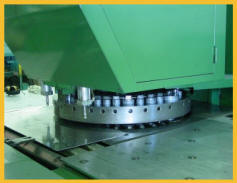 RUI is a design & manufacturing company with emphasis on 19" racks, rack mountable products & accessories. Our engineering department has 25 years of experience in design and manufacturing of rack mountable products for Audio, Video, and Computer markets.
Computer Aided Design (CAD) and Computer Aided Manufacturing (CAM) software let us turn around even complicated products in a very short amount of time using our CNC and ROBOTIC SPOT WELDING equipment with the greatest precision.
RUI is an exhibiting member of NSCA.